Justice League Store Books Clothing DVDs Posters Toys Video Games

Zack Snyder will officially direct "Justice League" for Warner Bros as soon as he's done with "Man Of Steel 2 according to tv yahoo."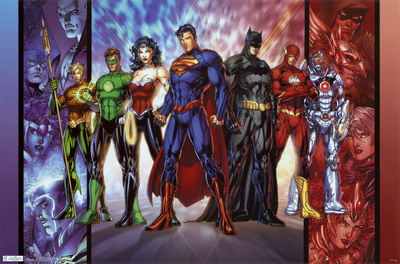 Order this poster



Quote:
Greg Silverman, president of worldwide production for the studio, made it official in an interview with The Wall Street Journal. There's a hilariously breathless quote midway through his story that pretty much explains why they were given the story. "The plans for three superhero movies in relatively quick succession show how intent Warner is on catching up with rival Walt Disney Co.'s Marvel Studios in building a cinematic superhero universe after years lagging behind."

They don't mention a date for "Justice League," but if the "Man Of Steel" sequel comes out as planned in 2016 and Zack Snyder is directing both films, then the earliest we're going to see it is 2018. If they did decide to make "Justice League" back-to-back with the "Man Of Steel" sequel, then maybe they could get it into theaters by 2017.





This I hadn't thought of.



Quote:
Warner tends to go gigantic when they make these films. I would be surprised if Marvel's made three films out of their whole run so far that are anywhere near as expensive as "Green Lantern" was, and I'm willing to bet that aside from "Avengers: Age Of Ultron," there's never been a Marvel movie that costs as much as "Man Of Steel" did.





Quote:
"Man Of Steel 2" and "Captain America 3" are both set for the same date, but that won't end up happening,



That's for sure. I read in another article that Disney is already re-thinking their May 16th 2016 date for Captain America 3.



Quote:

they mentioned other films in development, including "

Shazam

," "

Metal Men

," "

100 Bullets

," and "Fables," especially since at least two of those have no overlap potential with "Man Of Steel" or "Justice League" at all. They also teased the possibility of making a "

Wonder Woman

" movie




Also you may want to check out this article from the wall street journal the yahoo article refers to.

I hope they get the show on the road here and start putting out some movies. I want to see Justice League before I'm eligible for social security. I really want to see a Shazam movie to. I just hope it's the one I grew up with and not some dark and gritty movie. Shazam needs to be fun and light hearted. They can skip the talking tiger if they want. That's not going to hurt my feelings any, but don't make some kind of Dark Knight out of Shazam. I'd like to see it resemble the Christopher Reeve Superman movies in tone.