Registered User
Currently Offline
Posts: 820
Join Date: Mar 2007
--------------------
Chapter 5: Birth
--------------------

The group heads into Lee's office, it looks normal enough, but Mike keeps an open mind. Lee motions them to sit down in the chairs provided.

Stan: Well then, why don't you start by telling me what happened?

Mike tells the story of when he was little, how he got his powers, and how he found out he could use them. He leaves out the part of seeing the strange man twice, he's not sure why, but he has a feeling it'd be better if they didn't know about that.

Stan: Interesting. Well I suppose you've come for an idea on what you should do with these gifts?

Mike: I actually know what I'm going to do with them, it's just being able to do it will be tricky.

Stan: Let me guess, you need a costume.

Mike: Yeah exactly, and not to be picky, but I need something durable, easy to maneuver in, and electrical, fire, and water proof.

Stan: Ha ha. That's a pretty tall order...but I think I have just the thing.

He presses a button on his desk and the bookcase behind him parts showing an auditorium full of tables, hangers, and weaponry. He gets up and walks in asking the three to follow him. They enter the auditorium Lee tells Ron and Philip to feel free to look around. Lee takes Mike to the middle of the right wall of the room and places his hand on a pad. The wall opens up to show sheets of fabrics in a multitude of different colors.

Stan: I made a deal with the government, if any person would come by me with superpowers, then I would have to report their identity and list of powers to them. In exchange they gave me unlimited access to experimental costumes & accessories.

Mike: You're going to turn me in? (Mike asks questioningly)

Stan: Of all people, do you really think I don't know the importance of a secret identity? (Mike chuckles)

Mike: So what are you going to tell them when they see me flying through New York?

Stan: Let's just say you came in with a mask already.

The group takes the materials they need for Mike's idea of a costume. For hours, they sew together the fabrics, attaching the pads, equipping things here and there. When it's finished, it looks like a master piece.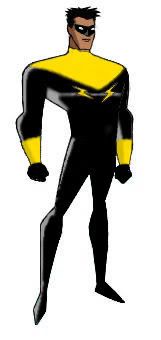 || Also, be sure to check my profile for better artwork done by the site's very own Gerry!

Mike tries it on, it's a perfect fit, when he walks up to the others, they look in awe as if he's a brand new being.

Mike: Darn, most of the good names are taken.

Stan: Sorry about that.

Mike: No problem, I think I'll call myself...Lectrohm, Ohm for short.

Ron: I suppose you are going to want to scan the city for any signs of trouble?

Mike: Not yet, first I need fuel.

Stan: Fuel?

Philip: Yeah, me too. There's this expensive seafood place-- (They laugh)

Stan: Well then, dinner is on me.

Back at the front door, Ron calls the chauffer to come and pick them up. On their way out the door Lee pays Mike for the dinner they are going to get and pulls him aside for second.

Stan: Promise me one thing.

Mike: What?

Stan: Promise me that no matter how much trouble you get into, you will follow your heart, and do what's right, and not necessarily what is easy.

Mike: That's a code I live by, thank you for all your help.

Stan: Thank you.

Mike walks to the car where the chauffer if waiting and gets in. The rest of the vacation is pretty normal. No crimes in the immediate vicinity, no ghosts, no worries. The plane ride home is like the same as it was coming, and the three kids are weary after the flight. Ron & Philip say their god-bye's as their parents come by and pick them up.

Dad: How was the trip?

Mike: Eventful, we got to see a lot of sites, ate a bunch of great tasting food, and met some new friends.

Mom: That's good. It's late; you'd better get to bed.

Mike heads upstairs to his room, memories of everything that had happened fluster around in his head. He finally falls asleep, with a dark figure looking over him in the window reflection. 'Rest' it says 'It's not over yet.'
__________________